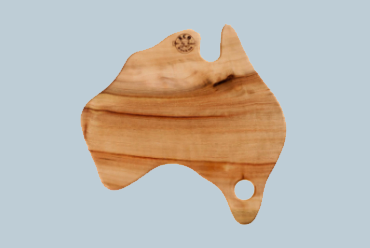 Camphor Laurel timber boards
As well as having a beautiful look and feel, there are a number of other health and environmental benefits to using Camphor Laurel boards when preparing and presenting food.
Camphor Laurel was first introduced as a shade tree into Australia from Asia in the middle of the 19th century. It quickly adapted to the rich volcanic soils around Mullumbimby in the New South Wales North Coast, where the timber developed some of the most beautiful grains and colour ever seen. It has become a feral pest, but with the blessing of producing a much sought-after cabinet timber. As such, the harvest of Camphor Laurel trees for use in timber boards and other furniture plays an important part in managing the native forests in these regions.
Camphor Laurel timber has also been found to have innate anti-bacterial properties due to the naturally occurring oil in the timber, which makes it ideal for use in breadboards. The naturally occurring chemicals that provide these properties include; camphor, safrole, cineole, cinnamaldehyde, fatty acids, mannitol, limonene, tannins, terpineol, eugenol, pinene, linalool, and geraniol (3, 4). The kiln drying used in the processing of the timber ensures that these chemicals will not contaminate food prepared on the boards.
A study that looked at the total numbers of micro-organisms found on the surface of cutting boards made from various materials showed that glass boards had over 3 times the number of micro-organisms compared to Camphor boards whilst plastic boards had over 4 times as many microbes on the cutting surface.
So the next time you're looking at buying a chopping board why not consider a beautiful and functional Camphor board that has been made right here in Australia. It will reduce the number of potentially harmful bacteria present during food preparation and also help with the sustainability and on-going management of native timber stands in north-eastern NSW.
At Australian Choice we have a great range of Camphor Laurel timber boards available so come in to see them in store or have a look on our website at the following link - Timber Boards