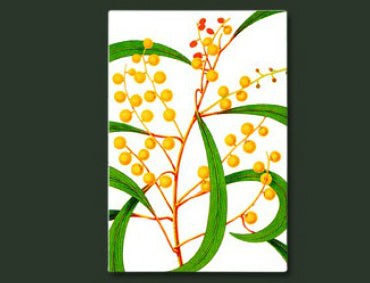 All About Wattle Day
Since 1992, the 1st of September has officially been national Wattle Day all across Australia. Prior to this it had been celebrated on various days between August and September in the different states and territories.
The wattle has had special meaning for Australians for a long time and in 1988 the Golden Wattle (Acacia pycnantha) was officially declared as Australia's national floral emblem.
How is Wattle Day Celebrated?
Wattle Day is considered a great way to celebrate the arrival of Spring and everything that is great about Australia. People will often wear a sprig of wattle on their clothing or wear green and gold colours in recognition of the day. A number of schools, workplaces and families organise picnics, morning teas or other small events to celebrate the day.
The Golden Wattle Award
This an award used to recognise the exceptional achievements of an Australian or Australians who have provided outstanding service to their country. Previous recipients of this award are Melbourne Cup winning jockey Michelle Payne and her champion strapper brother (2016), Steve,Champion surfers Mick Fanning and colleague Julian Wilson (2015), VC winner Ben Roberts-Smith (2014), Mel Irons a Tasmanian student and community activist (2013), Nobel Prize winner Professor Brian Schmidt (2012) and Tour De France Winner, cyclist Cadell Evans (2011).
About Wattles
Stylised designs of wattles in flower have been used as part of floral motifs on official Commonwealth Government documents from as early as 1912 when it was added as part of the Commonwealth Coat-of-Arms
All wattles belong to the genus Acacia
As of 2016, there are 1,064 different wattle species described in Australia with more yet to be added. Of these, 99% can only be found in Australia
The word 'wattle' originally referred to a barrier that is made from woody branches. The early settlers in Australia made a lot of their initial dwellings out of branches and mud, termed wattle-and-daub huts. The word 'wattle' soon became a common name for the Acacia species of trees that often provided the branches used for these early buildings
Indigenous Australians have many uses for wattle trees including as food and medicine and for making weapons like boomerangs and spears
Wattles grow across all parts of Australia
Wattles grow across all parts of Australia
Some of the great Wattle products available at Australian Choice
A beautiful gift of Golden Wattle Seeds
Golden Wattle pocket mirror
Wattle tea towel
Golden Wattle magnet
Timber bookmark
Golden Wattle notepad